Using video ads on Black Friday
Black Friday is right around the corner. Are your ads ready to go?
The kick-off to the holiday shopping season is a big deal. In the US alone, customers spent an average of $472 in 2018, with consumers to spend an average of $502 in 2019.
The long and short of it: Black Friday is a shopping season you should get in front of consumers for. Whether it's for for a vacation, Lego set, or keyboard, that weekend can be a massive sales-driver. With 83% of video marketers agreeing that video is growing in importance, there's never been a better time to create a jaw-dropping video ad to supercharge your Black Friday marketing campaign.
Ready to go? Get started the easy way with a pre-made Biteable ad. Customize your favorite in minutes.
The best Black Friday video ads
You'd prefer to start with some inspiration? Here's a list of 10 of the best Black Friday ads of all time to get those creative wheels turning.
Amazon: Let the deals come to you
Cardboard person? Slow-mo running? This Black Friday ad from Amazon has it all (all of those two things, that is). The ad tells a simple (yet surprisingly common story): that of the busy office worker who hates getting ready for Black Friday.
The ad highlights the convenience of ordering from Amazon: the thing that makes it perfect for busy customers rushing around getting ready for the holiday season while still trying to hold their lives together.
Make your own: Show your customers how your Black Friday offer makes their lives easier. Cardboard people optional.
This ad from Target's 2010 Black Friday campaign starring Maria Bamford holds up well because it captures the spirit of the weekend while poking fun at it. Our hero spends her days training, counting down the days, making sure she's got what it takes.
We all know someone who has this intense approach to shopping — and seeing it in a comical context highlights that Target's sale is worth all the prep, subconsciously implying to viewers that there's really something to get excited about here.
Make your own: Think about the shopper archetypes: which one connects with your ideal customer? Use it in your ad.
Create videos that drive action
Activate your audience with impactful, on-brand videos. Create them simply and collaboratively with Biteable.
Verizon: If it's good enough for Santa…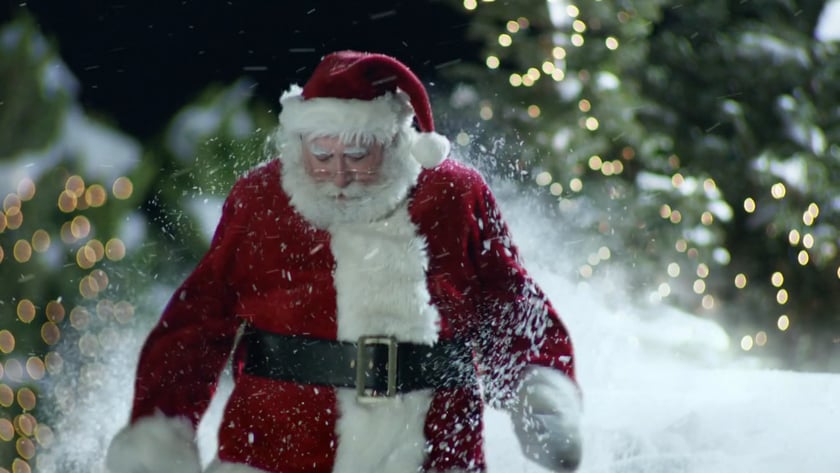 The Verizon holiday deals are so good, even Santa goes out of his way to get them. Verizon tied in Black Friday with the upcoming Christmas holidays, creating a continuous theme.
Make your own: Black Friday is close enough to Christmas that you can start hinting at it in your ads by adding characters, references, and maybe even a sprig of holly or two.
McLendon Hardware: All about Christmas
With so many households getting ready to decorate their homes, this charmingly silly and low-budget ad from McLendon Hardware doesn't pull any punches: It plays right into the holiday spirit. The ad shows off various decorations without feeling like a product-focused ad. This is because the spotlight is on the story.
Make your own: If you sell holiday products (or the perfect gifts and services) tell a story that brings them together and shows them off.
AussieBum: Straight from the movies
Can an ad about underwear on sale really be that exciting? Yes.
This ad from AussieBum closely mirrors famous video logos, like 20th Century Fox, Marvel, and Warner Brothers. These logos are designed to create excitement and anticipation; to get an audience warmed up and put them in the right mood to watch a movie. This ad embraces that spirit with great success.
Make your own: You can riff on famous movie openings or pop-cultural references that your audience will appreciate and relate to. Just make sure you stay on the right side of copyright law.
Dorothy Perkins: Simple elegance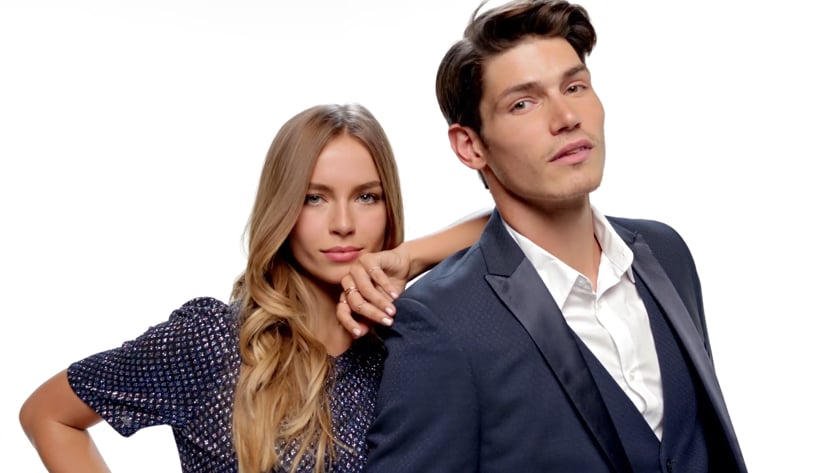 UK retailer Dorothy Perkins goes for simple elegance in this ad. The upbeat, jazzy background music, bright colors, and great graphic design set the scene for showing off some of the best holiday wear in their collection at 50% off. With office Christmas parties just around the corner, this offer is both timely and appealing to customers.
Make your own: This is the classic way to approach a Black Friday advertising campaign: by simply focusing on showing off the products you have on sale. If you manage to look as stylish as this while you're doing it, it's a win.
Kohls: Into the arms of pop-culture
Before you click this video, there are two things we have to say to you: Sorry. And good luck getting that song out of your head.
Kohls' 2011 ad played into a popular pop-culture phenomenon: Rebecca Black's song "Friday." Turns out, Black Friday fit the lyrics perfectly.
Make your own: While pop-culture jacking can be tricky, when done right it brings a certain level of fun and excitement to your ad that's hard to get otherwise.
What's going on (that your customers care about) that you can reference? A word of caution before you do, however: Just make sure the reference is on-brand.
When you mention Black Friday to most people, you might detect a little anxiety and frustration. Walmart flips that, by channeling excitement about the deals and turning this Black Friday shopping experience into a family trip everyone can enjoy.
Make your own: How can you flip the Black Friday sales into something your customers would love? Don't be afraid to get a little creative.
Make your Black Friday video ads shine
Now that you have some inspiration up your sleeve, we've compiled a few tried and true video-making tips to take out the hard work for you.
Plan ahead of time. Black Friday is busy enough without the added stress of needing to make a bunch of video ads. Figuring out your sales strategy and making your video ads ahead of time means you can spend Black Friday doing what you do best. Selling stuff.
Appeal to exclusivity and scarcity. People will be more likely to buy a sale product if they think that stocks are limited. Simple phrasing such as 'whilst stocks last' and 'don't miss out' can work wonders by compelling your potential buyers to get spending.
Make it stand out from the crowd. When it comes to video ads built for social media, looks matter. Simply put, a slick, professional-looking video ad will rake in a whole lot more interest than something thrown together using your computer's default video editing software.
Post across all your channels. Facebook, Instagram, Twitter, Email… Don't discount any of your social channels. Make that post, story, tweet, or email. The more audience your video ad reaches, the greater potential you have to increase your revenue this Black Friday.
Keep your messaging consistent. If you're selling a product for 50% off in one video, and 60% in another, your potential buyers (not to mention your sales reps) are bound to get mixed messages. If you're updating price markdowns, changing stock availability, or anything else, make sure to update all your videos in circulation.
Save the best till last. Give potential buyers a reason to watch your video ad all the way to the end. A smart way to do this is to start with your smallest markdown (say, 30% off) and work your way to the biggest. Sale-savvy viewers will recognize the pattern and want to stick around.
Consider dropping some ad money. Black Friday is one of the biggest shopping events of the year, so it's worth throwing a bit of advertising money behind your video ad for maximum exposure on platforms like Facebook and Instagram. It doesn't cost an arm and a leg for a little boost, and it can go a long way in boosting your sales.
Make Black Friday video ads in a snap
If all of this sounds like a fair bit of work, there's an easy workaround. Use Biteable to create scroll-stopping Black Friday video ads in minutes. With boatloads of stunning video ad templates at your disposal, all you need to do is add in your products and markdowns, tweak the colors, and add your logo. That's it. All that's left to do is upload to social.